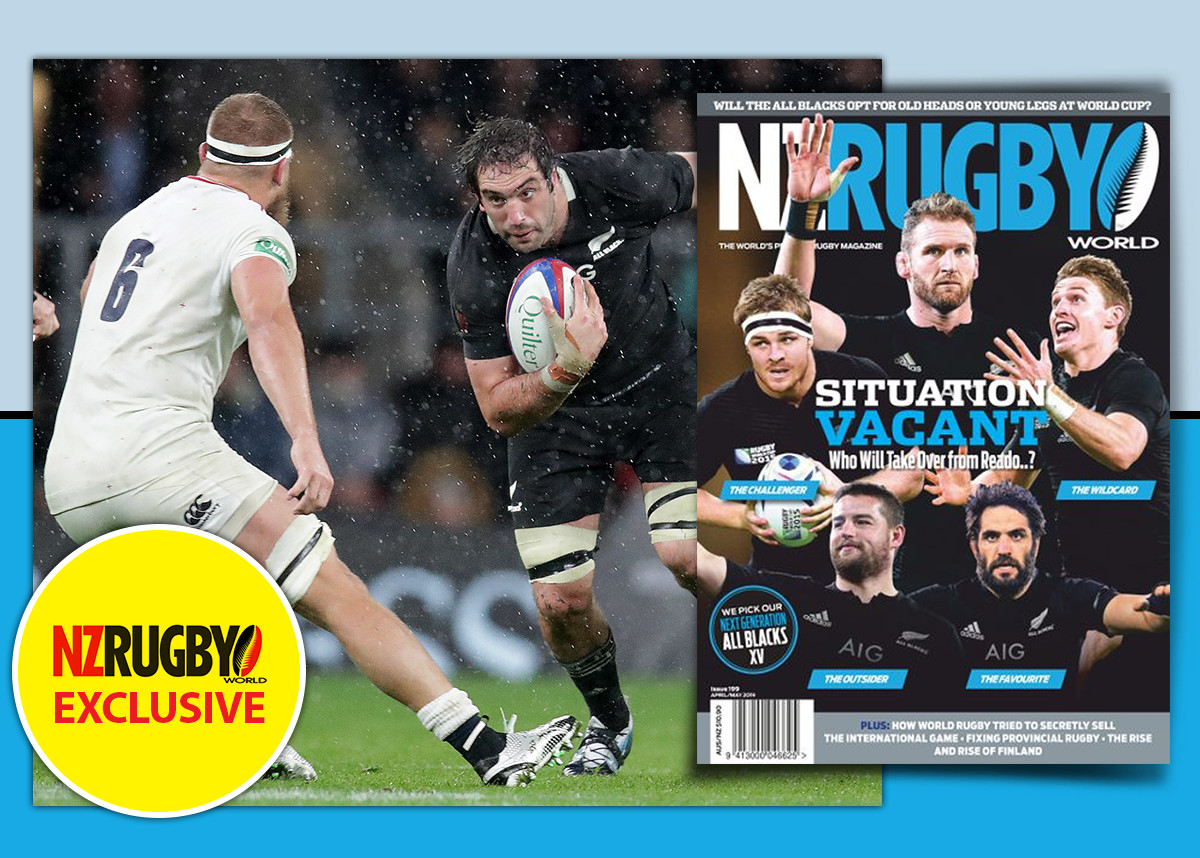 DEAD END Sam Whitelock was battling to get through tests at the end of last year. image Photosport
By November last year, the All Blacks couldn't hide the fact most of their players were about dead on their feet.
Head coach Steve Hansen didn't want to say anything publicly about the state of his team, but he didn't have to.
Everyone could see for themselves that Sam Whitelock was dragging himself around best he could.
There was no real zip in Aaron Smith. Liam Squire was running on empty and Codie Taylor, so sharp and energetic throughout June and the Rugby Championship was fraying at the edges.
Squire was a particularly interesting study as he was not only badly fatigued, he was just about broken, too.
A few days after the brutal test against England, Squire was left literally hauling himself up the stairs at the All Blacks hotel in Dublin. It was painful seeing him cling to the hand rail, dragging himself one leg at a time, wincing with every step and seeing him like that four days prior to the All Blacks' biggest test of the year against Ireland, it looked certain he wouldn't be named in the team.
And yet he was. He somehow found a way to get through training and persuade the coaching staff he was good to go, but he wasn't the best version of himself and he got close to admitting as much in February this year ahead of Super Rugby.
"The body took a hiding last year," he said. "The way I like to play it's the risk I take. I spent the off-season trying to get the body ready to take those hits and play the style I want to."
The All Blacks gave everything they had in Dublin, but the truth, whether Ireland find this dismissive of their brave and deserved victory or not, is that they didn't face the real New Zealand that day.
They played an All Blacks side that had one too many players blunted by a long season. There were one too many players not able to access all of themselves.
Mostly that was because of the long hard season but in the case of Kieran Read it was because he hadn't fully recovered from major back surgery and with Brodie Retallick it was because he had played too little football due to injury and having been magnificent the previous week at Twickenham, he couldn't back it up in Dublin as he simply didn't have the conditioning in the tank.
But this is how test rugby is these days – it swings primarily on the respective state of health and energy levels of the two teams.
In 2016 the All Blacks were superb until they headed to the USA and Europe in late October. It was there that the season caught up with them.
They had no Retallick or Whitelock in the starting team as both were injured – soft tissue damage that were the result of over playing – and too many of their senior players were drained from having had to play so much game time while dealing with an increased leadership burden.
When they managed to scrape home against France in Paris at the end of that tour, Hansen felt his team had fallen over the finishing line and were perhaps fortunate not to have suffered more than one defeat in the last five weeks of the year.
It was that sharp decline in form at the tail end of 2016 which led to the All Blacks trying to manage things differently in 2017 – opting to not take a host of senior payers to Argentina for the Rugby Championship test.

"It's always a risk but it's also an opportunity," Hansen said about the plan to manage workloads during the year.
"It's about risk and reward. If we don't do things differently we're going to get to the end of the year and the three tests in the UK will become extremely difficult because you've got tired athletes."
The plan didn't quite work as the senior players who didn't go to Argentina, struggled when they played the following week in South Africa and so the split squad theory was shelved in 2018.
What's become clear, or perhaps clearer, in the last three seasons is that international rugby coaches face a near impossible battle trying to play each test with a fresh, energised and injury-free group of players.
They have to juggle their resources somewhere along the way and even then it probably won't be enough to prevent them being vulnerable in at least one if not two tests per year.
Click subscribe now to see the great deals on a NZ Rugby World a mgazine subscription, essential reading leading up to the tournament that stops the nation!