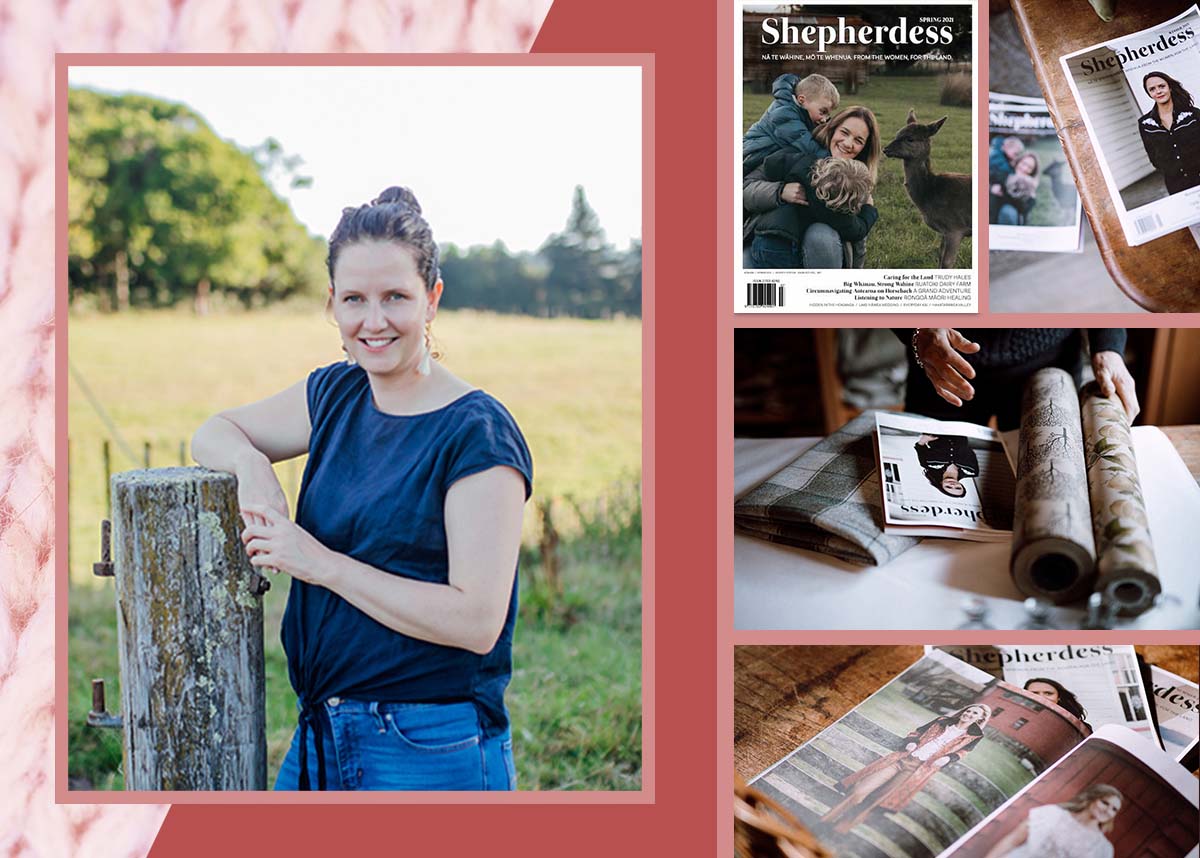 WHAT IS SHEPHERDESS MAGAZINE? WHO IS IT FOR AND WHAT DOES IT COVER?
Shepherdess unearths stories of women across rural Aotearoa New Zealand. Women who are creating and driving impactful change in our regions. We shine a light on all of the exciting, good work that is being done – whether in farming, business, the arts, community work or just family life. For us, it's about pairing beautiful storytelling with stunning imagery and design, and our stories can be read and enjoyed by anyone! We often have men telling us they really enjoy our magazine.
Our stories are gritty and real, and often the women we feature work in sectors normally dominated by men. Pania Tepaiho Marsh was featured in our third edition. She founded Wahine Toa Hunting, an exciting venture that gives women the opportunity to go out into the bush and learn how to hunt. We have also featured Anita Kendrick, an amazing young shepherd who has continued her career in farming despite losing the use of her legs in a farm accident. Another inspirational woman we have been lucky enough to do a story with is Annie Chambers. At 70 years old, she manages a property passed down through the generations, and teaches children to ride horses – in the least of conventional ways.
WHAT CAN READERS EXPECT FROM SHEPHERDESS MAGAZINE IN THE COMING MONTHS?
We have so many beautiful stories to share, we often don't have enough pages in the magazine to squeeze them all in! We're currently pulling together our Summer Edition, which will be on sale on December 2nd. We have women gathering and building community in a Wairarapa woolshed, a Pasifika wedding, an account of life in the Chatham Islands and recipes from a vegan delicatessen and bistro in Christchurch. We are always visiting places down back roads and having chats with women at their kitchen tables, or in their cowshed. It's a privilege for us to share and celebrate the lives of so many amazing women and families in New Zealand. We also share some of these stories on our Instagram,@shepherdess.nz, and on our website, www.shepherdess.co.nz. We also have a fortnightly email newsletter called The Rural Edit, which has recipes and little snippets of wisdom as well as some of our recent favourite finds – whether that be homewares or online reads.
HAS COVID IMPACTED YOUR APPROACH TO THE MAGAZINE OR WHAT READERS WANT FROM THE MAGAZINE?
The first edition of Shepherdess landed in mid-March 2020, only a few weeks before the first Covid-19 lockdown in New Zealand. I'm sure a lot of folk thought we were utterly mad starting a new magazine at that time! But for myself and the team at Shepherdess, the challenges of Covid-19 have really cemented our belief in the need for community and connection, as well as the sense of belonging that we always strive to create within our pages. Every story has the potential to create connections, and with the diverse range of stories we publish it gives our readers across the country – and the world – the opportunity to see women just like themselves overcoming obstacles and achieving dreams.
IF SHEPHERDESS MAGAZINE HAD A MOTTO, WHAT WOULD IT BE?
Our mantra is Na te wahine, mo te whenua – "From the women, for the land." This reflects the fact that we are all connected to the land in our own ways. We all make these few islands in the middle of the Pacific Ocean our home. It also speaks to the fact that our stories are about women from the length and breadth of New Zealand, and our team is scattered across the country, too. We have had women write in to us from as far afield as the Rekohu Chatham Islands and Aotea Great Barrier Island telling us that they love Shepherdess and its values. My favourite part of what we do is when we get messages from women telling us how the magazine has positively impacted them or helped them in some way – that absolutely makes my day and keeps driving my passion to make the magazine better and better.
Shepherdess has come from humble beginnings. I didn't have any publishing experience when I started the magazine – but I had an understanding of the experiences of women in rural New Zealand. I was looking for a way to connect people, and I saw the magazine could be a way to do that. I'm a mum, juggling work with family. My office is right here on the farm with my kids underfoot, the palettes of magazines on the back of a truck roll in right after the milk tanker. I have Zoom calls while breastfeeding or check copy and look at design mock-ups late at night after the kids are in bed. But it's also extremely rewarding to get these incredible stories out there, and that's why we work hard to create an engaging and relevant magazine for our readers.
IF YOU COULD BE ANYONE FAMOUS FOR A DAY, WHO WOULD IT BE AND WHY?
Funnily enough, I'm not that comfortable being in the spotlight! So jumping into the shoes of a famous person isn't something I would readily want to do! Shepherdess really isn't about me, but rather it's about the community we're gathering and wanting to support. I would love the opportunity to spend the day with some of the innovative female leaders in our country, such as MP Kiri Allan from the East Coast or Philippa Cameron of What's for Smoko in Otago. These women really inspire me to keep overcoming obstacles and pushing for the things that are important and that matter. I would love to hear their stories about where they come from, what drives them, and what keeps them going even when the going gets tough.
WHY SUBSCRIBE?
Our team at Shepherdess pours everything we have into making each edition the best it can be, and we hope that this shines through when you open the pages and immerse yourself in the stories. Receiving a magazine in your letterbox that you know is made with thoughtfulness and care is something that can really be enjoyed and savoured. On goes the kettle, as you settle down to read. Shepherdess connects you to rural and regional New Zealand from the comfort of your couch, your bedroom or your ute if need be. We showcase women from all parts of the country – women who are facing the same things as you, figuring out how best to do it all, and I think reading these stories, that are really all of our stories, fills us up and creates a really special feeling of community.
---end---