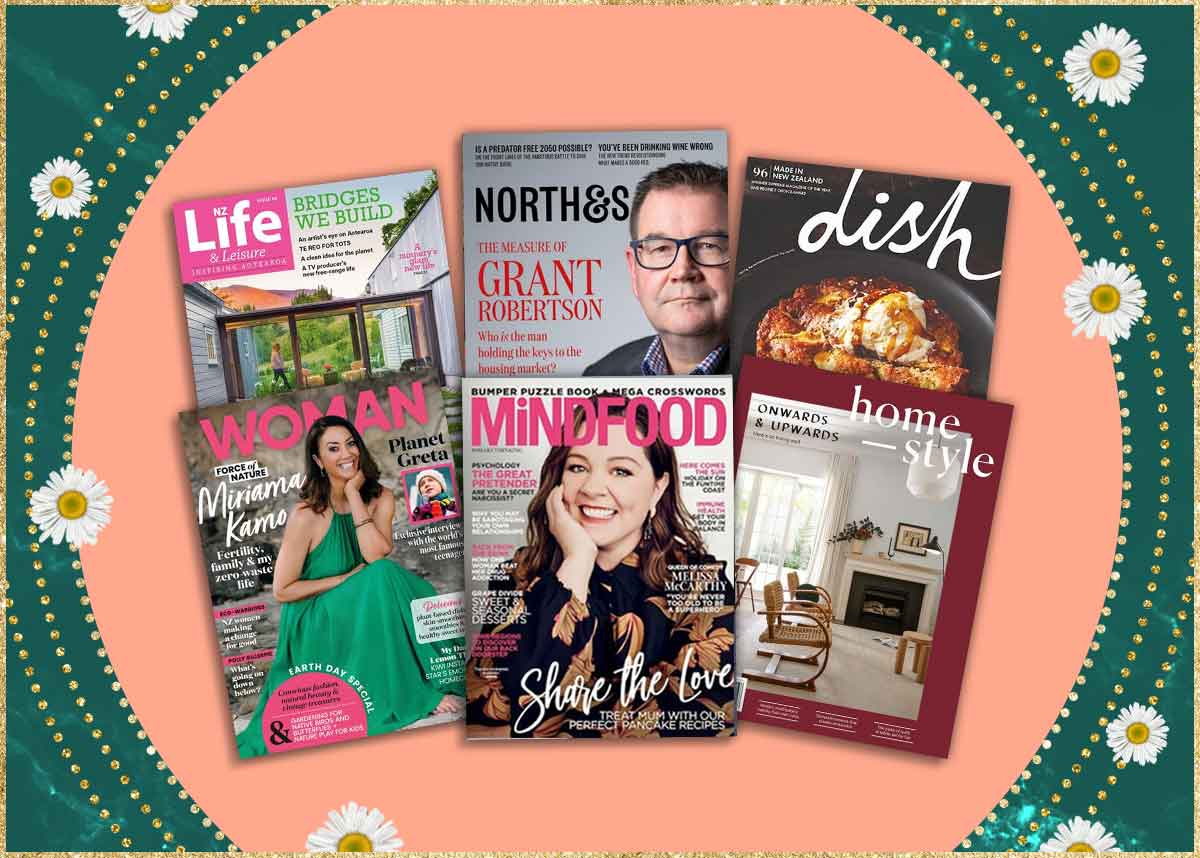 WOMAN
Woman is about New Zealand women, for New Zealand women, by New Zealand women. Launched amidst the pandemic, this is the brainchild of award-winning editor Sidor Kitchin. Give Mum the monthly gift of community and entertainment through WOMAN magazine where inspiring women's stories from across New Zealand are shared together with features across culture, recipes, wellbeing, homes and gardens, fashion and beauty, te reo, books, puzzles and more.
NZ Life & Leisure
NZ Life & Leisure magazine is about sharing inspiring stories of people living well, whether that's about keeping bees in their backyard, creating a unique home, or travelling every year to a dream destination. This heartfelt magazine is perfect for Mum to indulge herself in the tales and inspiration of interesting people and their homes and lifestyle, from both town and country.
Subscribe to NZ Life & Leisure from $55
Dish
Dish magazine is not only one of the most loved magazines in the country it's also one of the most accessible. Subscriptions start from just $26. Would Mum appreciate the heart-warming recipe ideas for a cosy night in or entertaining for friends? A look at the latest gourmet destinations, products, chefs and producers? Tantilise her taste buds every month with tips and recipes for Mums who cook a bit and dream a lot, to those who aspire to new heights!
MiNDFOOD
One thing your Mum is guaranteed with MiNDFOOD magazine is an inspirational and intruiging person of substance on its cover. Their story is always interesting and coupled with the latest insights across society, style, wellness, sustainability, culture, travel and good food. Give Mum a little bit of everything with MiNDFOOD.
Subscribe to MiNDFOOD from $39
North & South
North & South is your go-to magazine for Mums who are curious about the big issues and most interesting stories every month in New Zealand. It includes deep investigations into important topics mixed with delightful snapshots of life around the country, from New Zealands best and most trusted journalists. She will also receive regular updates on the latest goings on in arts, culture and sports.
Subscribe to North & South from $40
Homestyle
Homestyle is an award-winning home and interiors magazine targeting the modern renovator and house-proud stylist. If Mum loves to continually upgrade her home, find ideas for curating a room and look at endless home 'inspo' this is a perfect fit for her!
Subscribe to homestyle from $27